Moodabidri, also known as Jainkashi, is an ancient temple town located 35 km from Mangalore. Home for several Jain temples, Moodbiri is famous as a Jain centre. Apart from this, it is known for its historical and cultural significance. Here is a list of things you could do during your visit to this peaceful, spiritual town.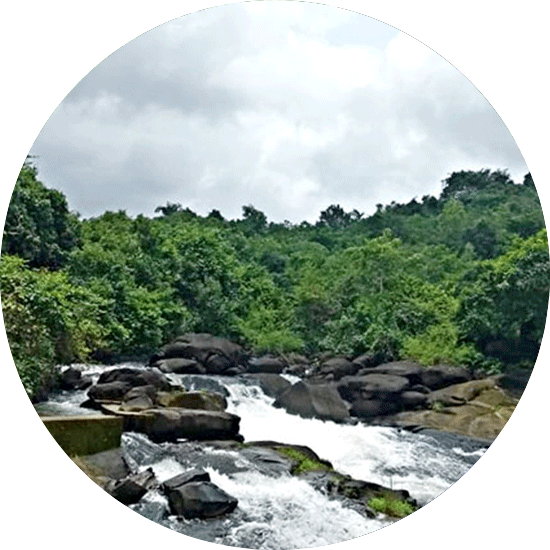 Saavira Kambada Basadi (1000 Pillar Jain Temple) - 9 km


The most famous among the 18 Jain Temples in Moodabidri, 1000 Pillar temple, is not just religiously significant but also an architectural masterpiece. Built-in the year 1430, it is said that the temple took a total of 31 years to be completely built! This fascinating structure cost over 9 crores at that time.

​Sri Devi Annapoorneshwari Temple, Kodyadka - 9 km


Sri Devi Annapoorneshwari Temple is spread over a wide area of over 6 acres. the Temple houses shrines to Sri Devi, Ganesha, Hanuman, Ayappa and Sai Baba. One of the best attractions here is a magnificent 61 feet statue of Lord Hanuman. Inaugurated in the year 1996, the beauty of this temple is taken to another level due to its location among an abundance of flora and fauna.

Gundyadka Falls - 12 km


Located 10 km from Moodabidri, Gundyadka Falls is the perfect spot or nature lovers looking for an escape from the city life. Before reaching here, you will have you go through a short trek through the forest which will lead you to this breathtaking view. However, the best time to visit this place would be during monsoons.

Soans Farm, Alangar - 11 km


Situated on National Highway 13, is a 100 acres farmland, which is a sanctuary for exotic fruit and flower-bearing trees. Popular as a centre for innovative agriculture, it is a famous tourist attraction. Pineapple, Mango, Sapota, Pepper, Cinnamon, Nutmeg, Cocoa, Cashew nut, Coconut and Vanilla make for year-round utilization of land. Other crops include Banana, Rambutan, Mangosteen, Durian, Barbados cherry, Surinam cherry, Passion fruit, Bamboo, Jack fruit, Rangoon Cherry, Star apple, Star fruit, Rose apple, Custard apple, Egg fruit, Mulberry, Allspice, Clove, Breadfruit, Butter fruit, Gooseberry, Yam and Arecanut.

Sammilan Shetty's Butterfly Park in Belvai - 15 km


This Butterfly Park founded by Sammilan Shetty in the year 2011, is home to 100 of species of butterfly. Located in Belavai village near Moodbidri, it is Karnataka states first privately-owned butterfly park. With the primary aim of conserving the dwindling butterflies of Western Ghats, here a variety of species of butterflies are grown and conserved in area of around 7.35 acres.

Durgaparameshwari Temple, Kateel - 12 km


This temple is among the most popular and must-visit temples near Moodabidri. Beautifully situated in the midst of river Nandini, it is devoted to the goddess Durga Parameshwari. Backed by a serene natural landscape, among a panoramic scene and lush greenery, this is one of the holiest temples.