Have you been browsing through the haldi and sangeet ceremony venues in Mangalore but to no end? Well, we have the best spot for you. An enchanting resort situated amidst the hills, just 45 minutes away from Mangalore!
Yes, you read it right. You can now host your haldi and sangeet ceremony in one of the best wedding venues in Mangalore – The Estate Resort.
Known for its exotic location, stunning interiors, and outstanding hospitality, this resort has won the hearts of people in no time. In fact, people who want their haldi and sangeet ceremony to be celebrated away from the city and its hustle always look up to our property.
Below, we have jotted down some reasons why we are the best option for your wedding functions. Take a look!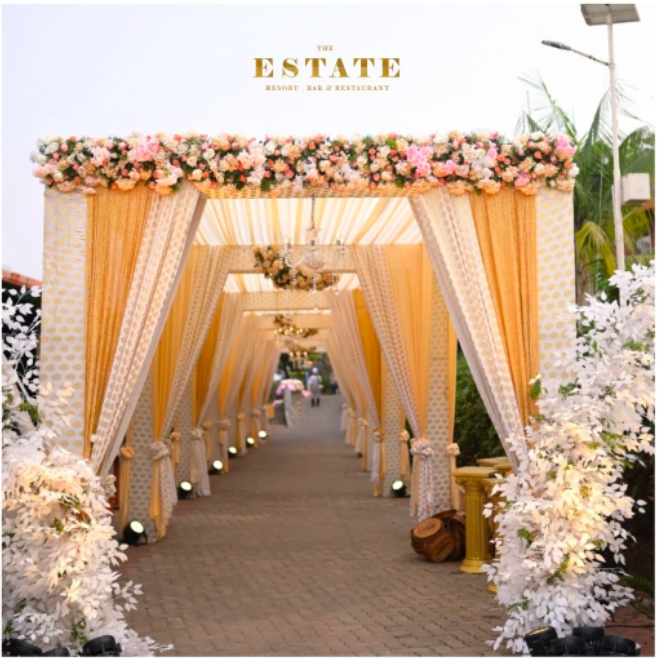 A Venue Like No Other


The Estate Resort is situated in a small and quaint village of Moodbidri of Coastal Karnataka. It is approximately 29 km away from the main city of Mangalore. This means your guests can arrive within 45 minutes!

Coming back to the resort, it can be your perfect location for a destination wedding. We have banquet hall, restaurant, in-house bar, and even a swimming pool where you can celebrate a fun and colourful haldi ceremony. Most of our customers prefer the poolside venue for haldi ceremony as it adds the much-needed freshness and fun for a stellar photoshoot too!

As for Sangeet ceremony, you can either host it in the banquet or use the outdoor party area where we can set up a stage for dance performance, DJ and whatnot.

Want to see more images? Check our gallery and we are sure you would fall in love with the location within a glimpse. And if that is not enough, here is our Insta profile.

Matchless Hospitality At Your Service


The location was for the couple's dream wedding. Our matchless hospitality is dedicated to those who plan everything. When you book us for sangeet or haldi ceremony, we make sure that everything is planned and executed to perfection. Our experienced hospitality team leaves no stones unturned. They will be in constant touch with you.

From décor to menu, the hospitality team takes care of everything. This also includes picking up and dropping off guests from airports. You just need to inform our team of what you want and then just relax and enjoy the occasion.

Win Your Guests' Hearts With Our Sumptuous Menu


When it comes to pleasing Indian wedding guests, you dare not take any chance with food. Thankfully, our menu won't disappoint them in any way. We have the perfect assortment of vegetarian and non-vegetarian dishes prepared by the best chefs. So whether your guests want authentic dishes of Karnataka or want to tantalize their taste buds with North Indian delicacies, we have it all.

Moreover, we also have an in-house bar serving all kinds of beverages to ensure the party never ends. To get more idea about our menu, click here.

Plan Your Haldi and Sangeet Ceremony Now!


Indian weddings are no less than festivals. The preparations start months before the final ceremony. This is why you should also plan the haldi and sangeet ceremony in advance. Call us today so that you don't miss out on this one!